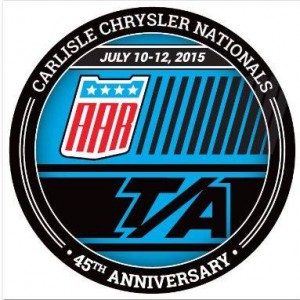 Another update about the AAR & T/A Reunion at Carlisle next month;
The seminar time has moved to 1:30 – 2:30 in the afternoon (Friday & Saturday).
Bob Tarrozi will be next up from 2:30 to 3:30,(also Friday & Saturday) so have your factory race car program questions ready.
The Carlisle staff also had the stickers pictured made up, everyone there with an AAR or T/A will get two just for being there.
Other items to commemorate the anniversary will be available to purchase as well, the proceeds will go towards keeping the registries afloat.
We will see you all soon!
Read More