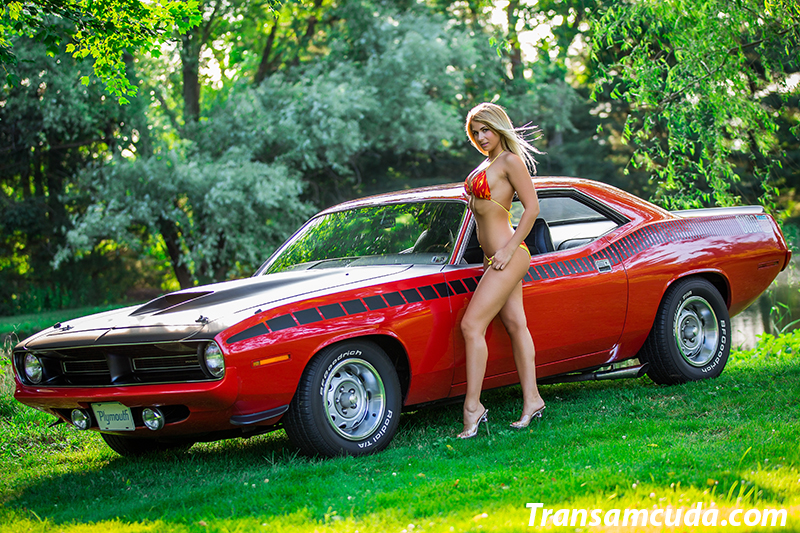 Welcome to Transamcuda.com and home of the Plymouth AAR Cuda Registry.
You have found the most comprehensive site on the net for all things Plymouth AAR Cuda and home of the
Plymouth AAR Cuda Registry. Please take the time to look over the site and if you haven't already please register your AAR Cuda with me. Here are a few questions I get asked about the registry.

---
Question : "When I register my AAR Cuda with you does my information stay private?"
---

Answer : Yes all information stays private. I do not make any owners information public.

---
Question : "How often does the AAR Cuda Registry vin list get updated?"
---

Answer : That all depends on how much information I receive. It varies from month to month.

---

The Plymouth AAR Cuda was only produced in 1970 and in limited production, A total of 2724 were built. 1120 were 4 speeds and 1604 were automatics and were built from March 11th till April 20th. The AAR Cuda was built to compete in the SCAA road racing championship series. Chrysler teamed up with Dan Gurney. Dan brought in young gun Swede Savage to round out his team.
All AARs had a 340 6 barrel engine. The AAR had unique graphics. The stripe down each side was called a strobe stripe, which highlighted the AAR Cuda badge at the rear of the car. The fiberglass hood scoop was functional and allowed fresh air to be fed into the carbs.
For spoilers, it had front chin spoilers and a rear duck tail spoiler both made of ABS plastic. The hood,tops of fenders,top of header panel ,tops of the doors and tops of the quarters by the passenger windows were all painted with a textured paint called Organasol. The grill and lower air shield were also black to add to the mean and sleek appearance.
---
Question : "What other options made the AAR unique???"
---
The Plymouth AAR Cuda was also one of the first muscle cars to use an off set tire size. 15″ x 7″ E-60 GoodYear Polyglass in the front and G-60 in the rear. This gave the car a raked stance.
The exhaust was special as well. The mufflers, which were also painted flat black.. had an inlet and outlet at the same end. The head pipe entered on one side then exited out the other side through the trumpet horn exhaust tip which was mounted right in front of the rear wheel on both sides.
The antenna was mounted in the rear. This was due to radio interference from the fiberglass hood.
The rear axle in an Plymouth AAR Cuda is an 8 3/4 with standard gears being 3:55 and optional 3:91's
Power disc brakes in the front and 11″ drums in the rear were standard.

---

Drop by and give us a like on our Facebook page also. Updates to the site are posted on our Facebook page so you can keep up with all things 1970 Plymouth AAR Cuda and Transamcuda.com