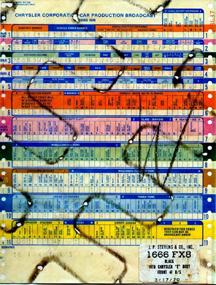 Please if you have any questions about the AAR Cuda Lost and Found section please email me by clicking here Thank you!!!
BCA – Stands for Broadcast Sheet Available

Here is a list of AAR Cuda Broadcast Sheets I have on file.
285419 – BCA
296076 – BCA
300404 – BCA
300448 – BCA
300514 – BCA
302133 – BCA
305236 – BCA

If you are looking for a broadcast sheet for your AAR Cuda and would like me to post it here please by clicking here with your AAR Cudas vin number and physical mailing address and current email address and I will place an ad here. Also if you dont see your sheet listed that doesnt mean I dont have info for your car or might possibly have info on your sheet. Please contact me to make sure I can help with any info at all on your AAR Cuda.Thank you

---
Question : "Do you actually have the sheets listed on file with you?"
---
Answer : Yes. Unlike other sites or people who claim to have sheets on file and charge you to claim them and don't have them on file. The ones I have listed I have on file here with me and dont charge for them.
---